Automotive Industry
Automotive Industry Challenges
The automotive industry is constantly evolving due to governmental regulations, changing consumer demands, and improvements in technology. This constant evolution creates a landscape of continuous challenges and opportunities for improvements through advanced materials and innovative design. The industry faces many challenges including lowering greenhouse gas emissions, boosting aerodynamics, increasing fuel economy, delivering the optimum strength-to-weight ratio, and ensuring safety.
The industry is also in the midst of a revolution with the global surge in electric vehicle production and demand as well as the rise in semi- and fully- autonomous (self-driving) vehicle technologies. While the global number of electric cars (EVs) remains low, vehicle fleet electrification has gained traction in recent years, aided by governmental incentives, shifting customer perceptions, and the auto industry's production of a large variety of affordable electric models.
HIGH-PERFORMANCE POLYMER PRODUCTS FOR AUTOMOTIVE APPLICATIONS
After packaging, building, and construction, the automotive industry is the third largest consumer of polymers.

Polymers deliver the characteristics of high-impact resistance, reduced noise and vibration, structural integrity, design flexibility, low density, and high durability. Each feature is vital to the industry for use in automobiles, over-the-road trucks, and off-highway equipment.

Within the market, some typical applications include air conditioning, braking, safety, steering, suspension, shock absorption, thermal management, and fuel systems. Additionally, the automotive sector uses polymer products for drivetrain and transmissions, electronic control units (ECU), clutches, torque converters and differentials, interior and exterior components, panels, and so much more.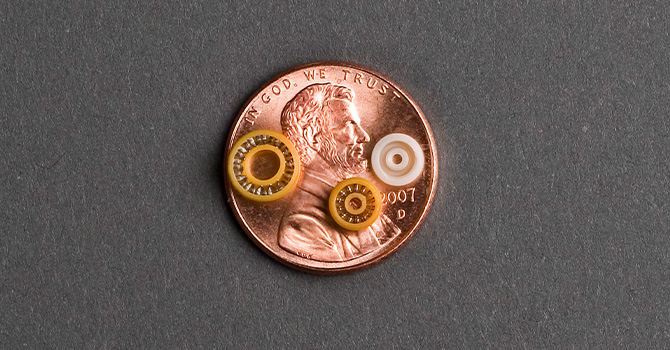 Plastic has become one of the most important materials for the structure, performance, and safety for both personal use and commercial vehicles.
Here is a sample of the many products manufactured using high-performance polymer products for the automotive industry:
Permeon oxygen sensor grommets

PTFE seals

O-Rings

Bearings and thrust bearings

Low-drag mudflaps

Suspension cylinder seals

Bushings

Diaphragms

Sensor covers

Rubber-to-metal bonded seals

Wiring harnesses and housing

Battery sealing for pressure relief valves

Buffer rings and back-up rings

Rotary seals

Friction and wear-resistant components

Custom-made gaskets

Custom-molded parts
Trusted High-Performance Polymers for Automotive Applications
The automotive industry has strict requirements and challenging specifications all driven to ensure optimal efficiency and long life, often in high temperature environments. A wide range of polymers are used throughout the many mechanical, climate, fuel, safety, and environmental systems in vehicles, while interior finishes tend to rely more on less complex polymers.
Regardless of the application, polymer product manufacturers must deliver the best quality materials and compounds, often focused on plastics, thermoplastics, and rubber materials.


Some of the materials in CDI's material portfolio with the right characteristics and properties for automotive applications include:
PAI (Polyamide) - Nylon
PP (Polypropylene)
HDPE (High Density Polyethylene)
Permeon Breathable PTFE (Polytetrafluoroethylene)
Thermoplastic Elastomers
EPDM (ethylene propylene diene terpolymer)
NBR nitrile butadiene rubber
PU (Polyurethane)
POM (Polyoxymethylene)
Commonly Used Manufacturing Processes for Automotive Applications
High volume manufacturing processes are required in order to meet production quantities needed in the automotive industry. With more than 30 polymer manufacturing processes, our team of skilled machinists, operators, and technicians use cutting-edge processes and technology to manufacture the highest quality seals, wear products, and functional components.

Backed by extensive research, testing, and manufacturing capabilities, our design and development team often work together with our customers to design performance polymer products which meet the unique application specs and environmental conditions. Whether it is injection molding to make low-drag mudflaps, or high-volume machining processes to make Permeon breathable oxygen sensor grommets, CDI employs the most advanced machines for high-volume manufacturing.
Certifications and Qualifications for the Automotive Industry
CDI prides itself on our quality and precision. Nowhere is that more evident than in our industry certifications.
CDI is currently in the application process to secure International Automotive Task Force (IATF) 16949:2016 Quality Certification. IATF is the global technical specification and quality management standard for the automotive industry and brings together standards from across Europe and the US.
In addition to our efforts toward IATF certification, CDI is certified to numerous global standards including API Q1, ISO 9001, ISO 14001, ISO 45001, Bizsafe Star, and AS 9100.