Combining the versatility and flexibility of thermoplastics with advanced manufacturing methods makes them an innovative solution for virtually every imaginable industry. However, the manufacturing and development process involves many challenges, and each of these steps requires special expertise and technology.
From careful material selection to precise testing practices, here are some of the capabilities that go into a successful thermoplastic project. As we'll cover below, these are just some of the factors that a vertically integrated provider can house under a single roof, allowing OEMs to streamline projects.
Material Selection: Standard and High-Performance Polymers
The thermoplastic family of materials is vast and ever-expanding. However, not every thermoplastic material is a high-performance polymer – that is, not all of these thermoplastics can meet the demands of high temperatures and high stress or other site-specific conditions.
The following is an overview of some of the most common injection-molded thermoplastics, as well as how they stack up to PEEK – a high-performance material that can handle more challenging conditions than its counterparts.
Polyethylene (PE)
The most common plastic material in the world, polyethylene is known for its simple chemical structure. It comes in a number of forms, each of which is used for a variety of applications.
Low-density polyethylene (LDPE) has good flexibility, elongation, impact strength, and transparency. You've probably most recently interacted with this material in the form of a plastic grocery bag, but it's also used for making plastic bottles and other packaging products.
High-density polyethylene (HDPE) has a high melting point, rigidity, hardness, and strength, as well as low water absorption, outstanding electrical properties, and good radiation resistance.
Its corrosion resistance and insulating properties make it a popular source material for 3D printing filaments, as well as a durable option for pipes, toys, and plastic furniture.
Finally, ultra-high molecular weight polyethylene has high impact strength, fatigue resistance, and wear resistance. It is effective in the manufacturing of anti-friction, wear-resistant, and transmission parts, making it especially valuable for the automotive and marine industries.
Polyvinyl Chloride (PVC)
You've probably heard of Polyvinyl Chloride (PVC) due to its common use in various types of pipe. However, PVC has come to replace a much wider variety of traditional building materials, such as wood, metal, concrete, rubber, ceramics, and more.
PVC materials include rigid PVC (RPVC) and semi-rigid (SRPVC) varieties. RPVC properties include high mechanical strength, excellent electrical performance, strong acid and alkali resistance, good chemical stability, but a low softening point. These qualities make RPVC suitable for manufacturing rod, pipe, plate, oil pipe, and acid-resistant parts.
On the other hand, SRPVC properties include a higher elongation rate, lower mechanical strength, better corrosion resistance, and greater electrical insulation than SRPVC. While SRPVC is more prone to aging and decomposition than its rigid counterpart, it's suitable for making thin sheets, thin film, wire and cable insulation, sealing parts, and more.
Polyamide (PA)
Polyamide, more commonly known as nylon, is another extremely common thermoplastic material. It is tough, wear resistant, fatigue resistant, oil resistant, water resistant, and mold resistant. Some polyamides have considerable elasticity, high-impact strength, and high water absorption. Others offer exceptional abrasion resistance, while still others are translucent and offer better cold resistance.
These properties render nylon and its derivatives a suitable material for a variety of components, including general mechanical parts, anti-friction parts, driving parts, and chemical electrical instrument parts.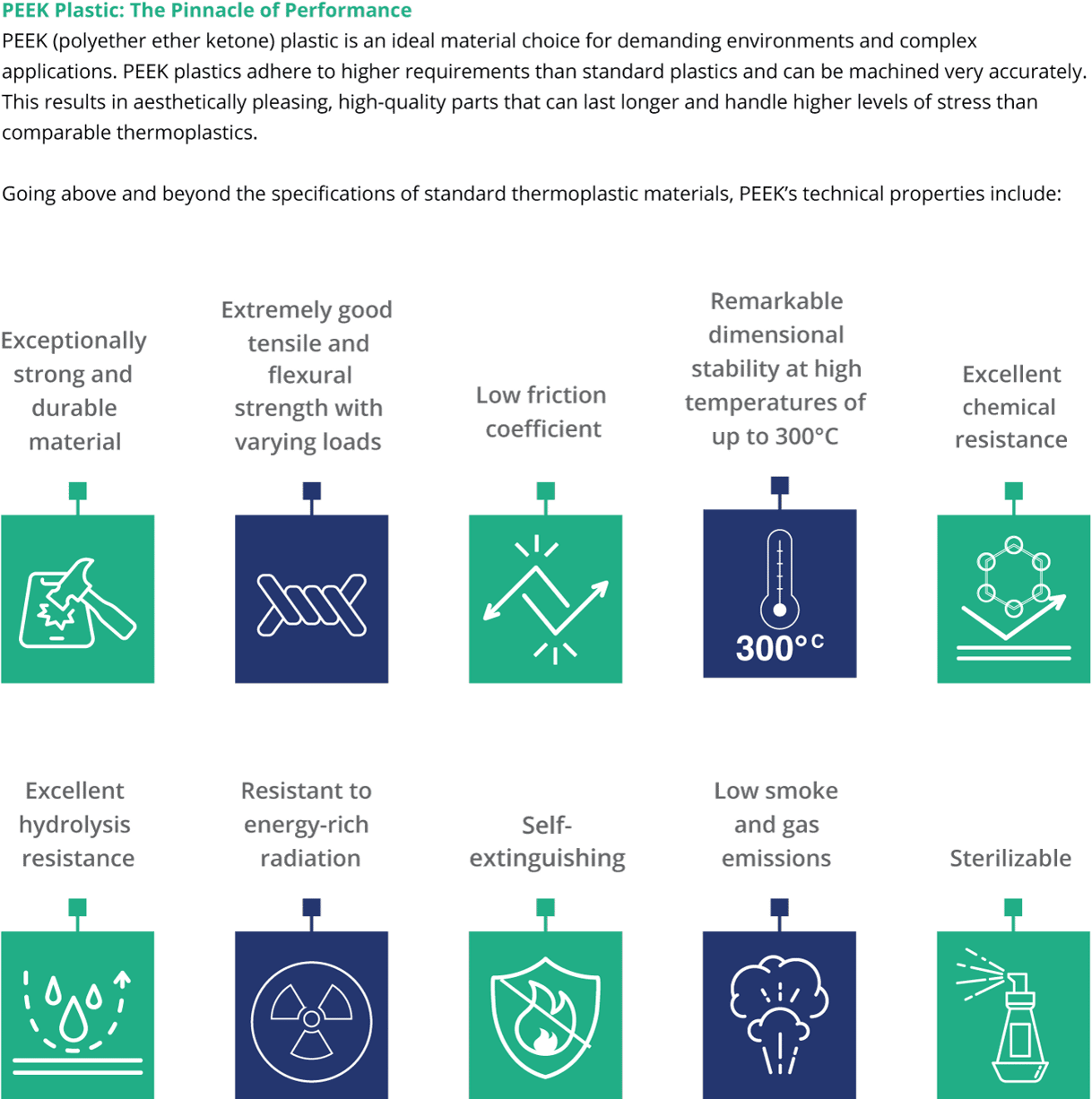 All of these properties add up to the ability to complete a broader range of projects at a faster rate – all with safer, more durable results.

Manufacturing Processes: The Versatility of Injection Molding
Some of the standard manufacturing processes engineers use to develop high-quality parts include molding, milling, extrusion, pultrusion, machining, welding, and grinding. These methods can produce a variety of stock shapes, such as billets, rods, sheets, films, pipes, and tubes, which are readily available for secondary operations.
In the right hands, a vertically integrated manufacturer can transform thermoplastics into custom-engineered products designed for precision, intricacy, and consistency.
Injection molding is particularly effective in producing high-performance thermoplastic components that meet rigorous mechanical requirements. In this process, machines inject molten polymer materials under high pressure and at high speed into closed molds. This process is appropriate for both high- and low-volume production.
Injection molding not only enables manufacturers to produce high-quality components with an exceptional degree of consistency and efficiency, it also allows them to create custom solutions for specific field conditions. To take a deep dive on the advantages of injection molding, read our blog post on this topic.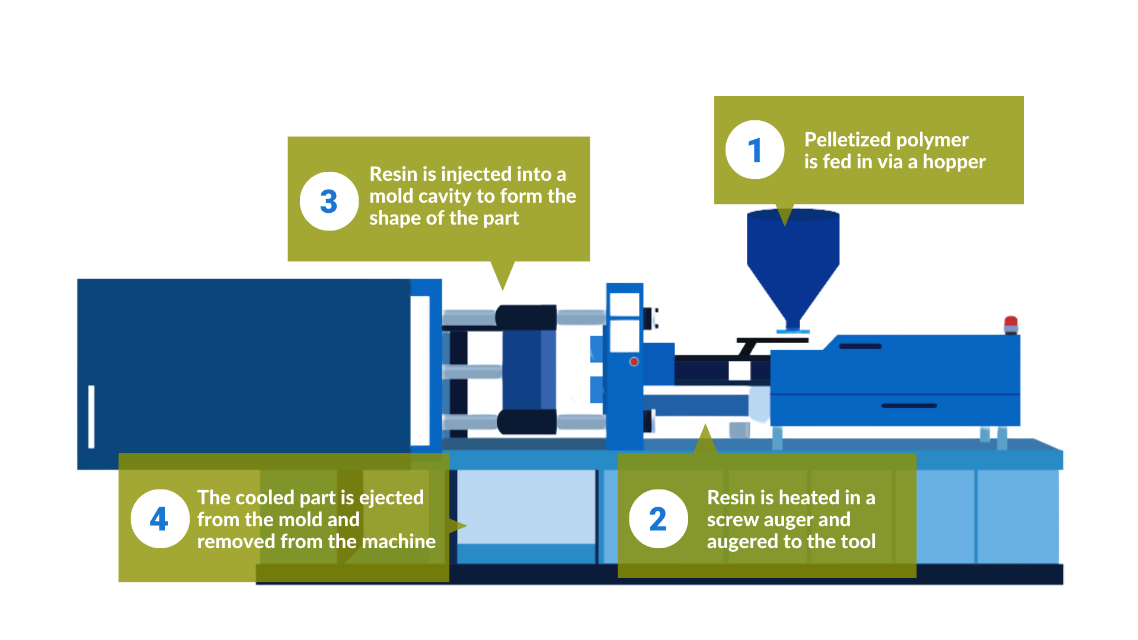 Additives: Fine-Tuning the Optimal Material
Additives play a significant role in the processing and fabrication of thermoplastics, allowing providers to customize materials to meet rigorous technical standards, such as those related to strength, rigidity, and melting point.
The five primary types of additives for thermoplastics, along with their primary uses, are: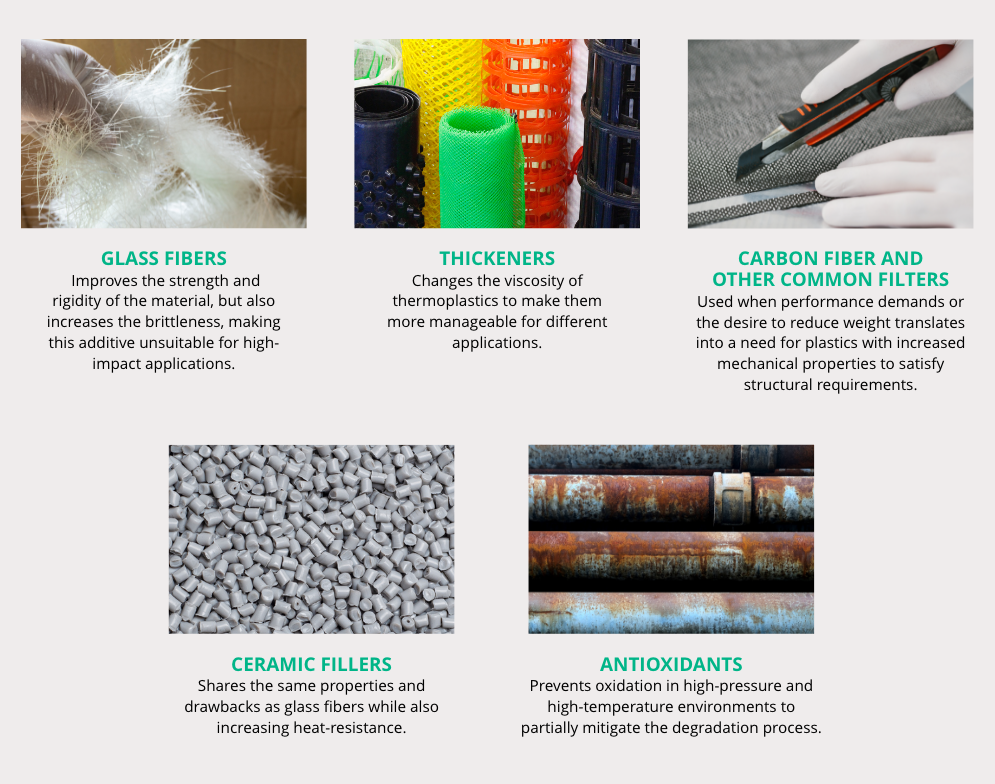 Each of these properties allows providers to optimize thermoplastic materials for physical, mechanical, electrical, and optical specifications. Along with the manufacturing method and raw material supply, these specifications are an important factor in selecting the right thermoplastic for a specific application.
Testing: Ensuring Safety and Consistency for Specific Field Conditions
Various testing processes are involved in the development of thermoplastics. Testing is important not only for creating safe, compliant components but also for ensuring that the material will meet the specific requirements of the environment.
Keep in mind that a lack of testing can result in costly project delays or unwanted changes. That's why leveraging a broad range of sophisticated test capabilities is essential for ensuring the smooth delivery of high-quality parts that fit the bill. Here are three of the most critical: