Water Treatment Industry
Water Treatment Industry Challenges
Water and wastewater treatment technologies are a collection of procedures that remove contaminants from wastewater or sewage from various industries, commercial buildings, and other sources. These technologies then transform the contaminants into effluents that may be released into the environment with minimal harm. Water treatment, effluent treatment plant (ETP), sewage treatment plant (STP), desalinations plants, and water recycling are all part of the water and water recycling sector.

Economic development, combined with rapid urbanization, is driving the demand for efficient water management solutions worldwide. The global manufacturing sector is driving demand, as increased production in various manufacturing industries boosts the demand for water and water recycling, given the growing need for water conservation and stringent environmental restrictions.
The scarcity of freshwater resources, combined with rising demand for water in many parched areas because of a lack of surface water sources such as lakes and rivers, has increased the number of desalination facilities worldwide. Desalination is proving to be one of the most effective methods of reducing water loss and increasing supplies, with the growth of water recycling technology reaching millions who would otherwise struggle to obtain clean, inexpensive water.
The water and wastewater treatment market includes oil/water separation, suspended solids removal, dissolved solids removal, biological treatment and metals recovery, disinfection and oxidation, municipal water and wastewater treatment, food and beverage, pulp and paper, oil and gas, healthcare, chemical and petrochemical, and more.

Despite the varied water treatment segments, there are some consistent challenges facing the industry. Some of the most common pain points focus on scaling and corrosion; leakage and seal integrity; chemical compatibility with water treatment additives and softeners; soft goods erosion and corrosion from chemical and biological or organic matter; and toxic waste matter and disposal.
HIGH-PERFORMANCE POLYMER PRODUCTS FOR WATER TREATMENT APPLICATIONS
Increased industrialization coupled with more rigorous environmental protections is driving the demand for water treatment and water reclamation services across several industries. The increased shortage of potable water and the growing population and water demand are also key factors driving market demand.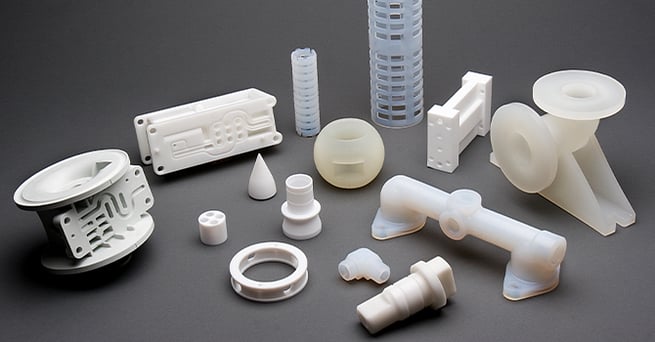 Although the pharmaceutical and semiconductor markets are leading the growth and supporting innovation within the water treatment industry, power generation, steel, chemical refining, paper manufacturing, and agriculture rely on quality water treatment daily.
Within the market, some typical applications include sludge management; thermal process equipment; non-membrane filtration; RO/NF and MR/UF membrane filtration; adsorption and testing; disinfection; chemical feed systems; automation and control systems; aeration; agitation and mixing; valve, pumps, and piping systems; and much more.
Here is a sample of the many products manufactured using high-performance polymer products for the water treatment industry:
Polymer filter containers

Valve seats

Seal stacks

Pump bearings

Seals and gaskets for piping

Low-pressure joints
Trusted High-Performance Polymers for Water Treatment Applications
The water treatment industry has strict requirements and challenging specifications all driven to ensure optimal purity, maximum water reclamation, and minimal negative environmental impact. In water treatment, there are residential and commercial applications with varied complexities and requirements. In both, the water is subjected to all kinds of chemicals, particulates, solids, contaminants, and high-performance polymers can handle these conditions and protect the systems against corrosion and damage.
The primary applications for polymers are for the whetted components found in the primary fluid handling mechanisms – pumps, valves, tanks, piping, filtration, and other industrial equipment. To address the complexities, polymer product manufacturers must deliver the best quality materials and compounds, often focused on plastics, thermoplastics, composites, elastomers, and packing materials.


Some of the materials in CDI's material portfolio with the right characteristics and properties for water treatment applications include:
PTFE (Polytetrafluoroethylene)
RPTFE (Reinforced Polytetrafluoroethylene)
FKM (fluorocarbon) – Viton®
dures® family (150, 200, 250, A451, XPC2)
EPDM (Ethylene propylene diene terpolymer)
PVC (Polyvinyl chloride)
GRP (Glass-reinforced Polymer)
Silicone (Polysiloxane)
PVDF (Polyvinylidene fluoride)
Commonly Used Manufacturing Processes for Water Treatment Applications
The highly critical nature of components and products for water treatment applications means manufacturing of those products must meet the highest level of safety, quality, and reliability. With vertically integrated manufacturing, CDI provides far more than mere part production. With over 30 polymer manufacturing processes, our team of skilled machinists, operators and technicians use cutting-edge processes, and technology to manufacture the highest quality seals, wear products, and functional components.

Backed by extensive research, testing, and manufacturing capabilities, our design and development team often work together with our customers to design performance polymer products which meet the unique application specs and environmental conditions. In the water treatment market, some of the most used manufacturing processes include machining, extrusion, and injection molding.
Certifications and Qualifications for the Water Treatment Industry
CDI recently received the NSF/ANSI/CAN 61 Certification from NSF International (formerly known as the National Sanitation Foundation). NSF International provides an extensive range of services for the water industry to help ensure the quality and safety of products in the marketplace. Manufacturers like CDI look to NSF International for the development of public health standards and certification programs that help protect the world's food, water, consumer products and environment.
CDI is also certified to numerous global standards including API Q1, ISO 9001, ISO 14001, ISO 45001, Bizsafe Star, and AS 9100.