In a variety of industries, spring-energized seals provide long-lasting and dependable sealing solutions in critical applications and under extreme operating conditions. A broad portfolio of NORSOK approved compounds, proprietary blends, and other advanced polymeric materials bring to market fully customizable sealing solutions designed for superior performance in critical service applications.
Quick delivery
No molds required
Precision CNC manufactured
Wide material choices
Varied Spring configurations
Why Use Spring-Energized Seals?
From lip profile customization to unique contours and seal geometries, we partner with you to design the optimal sealing solution. Our spring-energized OptiSeal® components, OptiPak configurations, and A6R composite seals are designed for a range of service conditions, from dynamic conditions to differential pressures and temperature ranges.
Providing gas-tight sealing systems
Helping to achieve fugitive emission reduction goals
Meeting environmental regulation requirements
Some additional benefits of using our spring-energized sealing options include:
Completely customizable components
Seals, sealing elements, and configurations for broad pressure ranges
Effective in sealing large extrusion gaps
High-performance materials
Available for rod and piston sealing
Less friction in dynamic applications
Materials lend seal to lower permanent set
Lowered friction in dynamic application
Jacket Material Selection for Spring-Energized Seal Design
Material selection and compatibility are primary factors that contribute to excellent sealability. When designing a spring-energized seal for your application, our engineering staff chooses materials with physical attributes, performance properties, and performance characteristics specific to your application.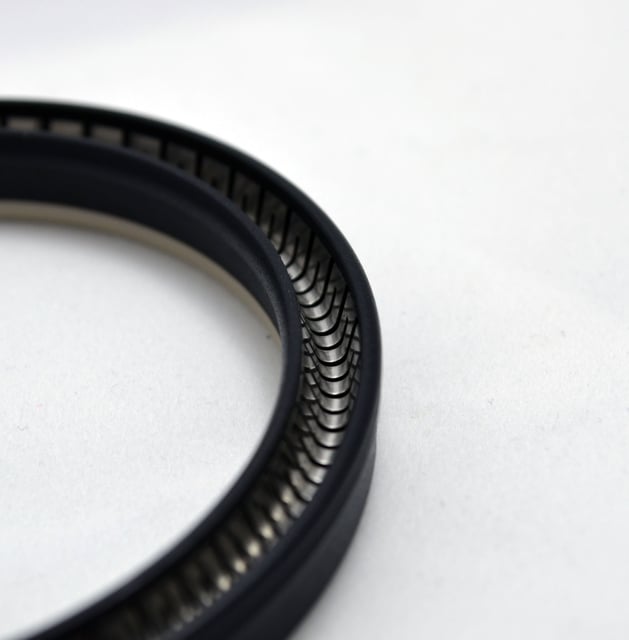 Evaluating the Environment
CDI design experts carefully assess all aspects of the application environment. The range of materials used in our spring energized seals allow for efficient use in applications with variations in temperature, pressure, and media. The result is a sealing solution capable of performing in dynamic, hostile environments where traditional elastomeric seals fail.
Energizer Material Selection
Characteristics such as load value, corrosion resistance, and deflection range are primary factors our engineers assess when selecting a spring for a given application. While spring energizers are among the most popular materials used in the energized seals we offer, elastomeric options such as custom o-rings are available upon request.