LNG & Cryogenics Industry
LNG & Cryogenics Industry Challenges
The term "cryogenics" frequently conjures up images of liquid natural gas (LNG), liquid helium, liquid nitrogen, and liquid hydrogen. In the industry, cryogenic tanks are used to store and to transport liquefied industrial gases such oxygen, hydrogen, nitrogen, helium, and argon, holding liquid gases at temperatures below -150°C (-238°F). Understanding the multiple applications of cryogenics in a number of industries puts things into perspective.
Currently, cryogenics are making a significant impact on essential industries like medical, pharmaceutical, technology, food and beverage, electronics, metal processing, and energy. In the energy market, cryogenics and LNGs specifically have made a substantial impact. Transmitting natural gas over long distances can be difficult and expensive, and gas is frequently liquefied at very low temperatures and carried in tankers as liquefied natural gas (LNG). The conversion of natural gas to LNG is accomplished using a cryogenic refrigeration cycle.
In marine and offshore applications, there is a growing use of LNG floating production storage and offloading vessels. Although there are many offshore gas sources, pumping product to shore is typically prohibitively expensive. However, the development of floating liquefied natural gas (FLNG) is making it more economically feasible to access these submerged deposits.
With the challenging conditions and often remote access issues facing the LNG and cryogenics, there are a myriad pain points to overcome including cryogenic temperatures, atmospheric pressures, thermal cycling, self-lubricating properties, slip-stick vibration, dimensional stability, chemical compatibility, friction resistance, strength-to-weight ratios, expansion coefficients, and toxicity, flammability, and explosivity.
HIGH-PERFORMANCE POLYMER PRODUCTS FOR LNG & CRYOGENICS APPLICATIONS
Finding an efficient sealing solution for use in cryogenic work environments can be quite difficult. Keep in mind that under normal atmospheric pressure, nitrogen exists as a liquid between -220°C (-346°F) and -195.8°C (-320.44°F). It has a very high liquid-to-gas expansion ratio of 1:694, which indicates that as it boils (beginning at its boiling point of -195.8°C/-320.44°F), it will expand to 694 times its initial volume.

If this occurs in a sealed environment, it can result in an extraordinarily significant pressure change, and most LNG seals must stay effective at either vacuum pressures or extremely high pressures.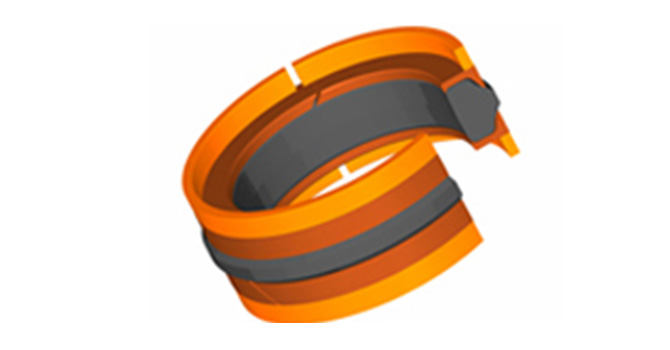 Many elements, such as spring force, surface quality, friction, and permissible leakage, must be balanced while sealing in LNG and cryogenic applications. Within the market, some typical applications include natural gas liquefaction plants, LNG receiving stations, LNG storage terminals, pipeline valves, low fugitive emission valves, on-off valves, control valves, pumps, centrifugal and reciprocating compressors, heat exchangers, vaporizers, fuel dispensers and nozzles, fluid transfer equipment, and liquid oxygen or nitrogen valving.
Here is a sample of the many products manufactured using high-performance polymer products for the LNG and cryogenics industry:
Cantilever seals

Helical seals

Spring energized seals

Stem seals

Disc spring gasket seals

Valve stem seals and seats

Butterfly seat seals

Flange seals

Fasteners

Optiseals®

Fugitive emissions packing

Die-formed graphite rings

Large diameter seals
Trusted High-Performance Polymers for LNG & Cryogenics Applications
The LNG and cryogenics industry has strict requirements and challenging specifications all driven to ensure chemical compatibility, low friction, wear-resistance, and extrusion resistance.
To address the complexities of the market, polymer product manufacturers must deliver the best quality materials and compounds, often focused on thermoplastics, fluoroplastics, composites, graphites, and packing materials.


Some of the materials in CDI's material portfolio with the right characteristics and properties for LNG and cryogenics applications include:
PTFE (Polytetrafluoroethylene)
UHMWPE (Ultra-high-molecular-weight polyethylene)
PCTFE (Polychlorotrifluoroethylene)
TFE (Tetrafluoroethylene)
TFM - Dyneon®
Impregnated PTFE asbestos rope
Flexible graphite
Commonly Used Manufacturing Processes for LNG & Cryogenics Applications
With the highly critical nature of components and products for LNG and cryogenics applications, manufacturing of those products must meet the highest level of safety, quality, and reliability. With vertically integrated manufacturing, CDI provides far more than mere part production. With over 30 polymer manufacturing processes, our team of skilled machinists, operators and technicians use cutting-edge processes and technology to manufacture the highest quality seals, wear products, and functional components.

Backed by extensive research, testing, and manufacturing capabilities, our design and development team often work together with our customers to design performance polymer products which meet the unique application specifications and environmental conditions.

In the LNG and cryogenics market, some of the most used manufacturing processes include injection molding, melt molding, compression molding, grinding and super finishing, precision CNC machining, turning and milling, large-diameter capabilities, billets, go-to-market finished products, and more.
Certifications and Qualifications for the LNG & Cryogenics Industry
CDI is certified to numerous global standards including API Q1, ISO 9001, ISO 14001, ISO 45001, Bizsafe Star, and AS 9100.