Upstream Oil and Gas Industry
INDUSTRY CHALLENGES
The modern upstream oil and gas industry is focused on innovative approaches to access hydrocarbons while improving safety and mitigating negative environmental impact across the upstream production arena, including onshore, offshore, or subsea. Lives are on the line and the potential risks are considerable. Upstream equipment failure can lead to issues of both human and environmental safety, as well as lost revenue due to a shut-down.
To ensure optimal production, efficiency, and safety, producers must consider equipment lifecycles, strength-to-weight ratios, chemical compatibility, wear resistance, conductivity, flammability, vibration dampening and impact protection, and temperature and pressure functionality. Producers are continually pushing the limits as they design tooling to withstand challenging conditions in search of oil and gas in locations once thought inaccessible.
HIGH-PERFORMANCE POLYMER PRODUCTS FOR UPSTREAM OIL AND GAS APPLICATIONS
Operations within the upstream industry include a multitude of critical sealing applications. The combination of HPHT (high-pressure high temperature), RGD (Rapid Gas Decompression), ED (Explosive Decompression), and harsh chemical conditions seen in the upstream industry can lead to component failure. This failure is responsible for costly safety and environmental issues, as well as lost production and operational shut-down.

Components must be capable of withstanding challenges of scale and complexity. Sealing elements are one of the components most vulnerable to failure. This makes selecting proper sealing materials and elements essential to optimizing tool performance.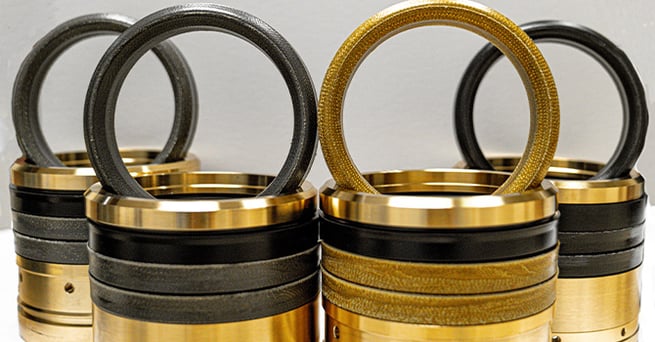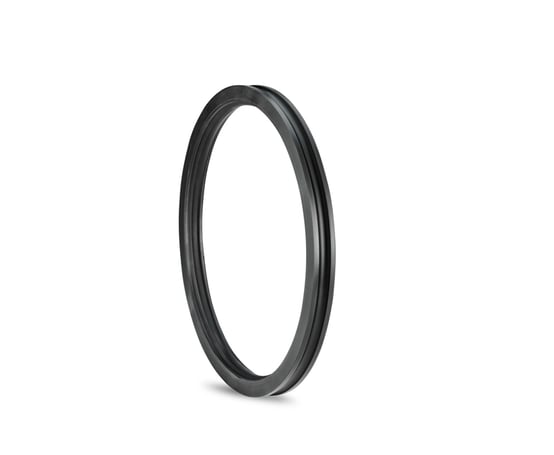 Polymer components are trusted in a variety of upstream oil and gas applications, including blowout preventers (BOP), tubing hangers, casing hangers, chemical injection systems, subsurface safety valves, gas lift systems, artificial lift systems (ALS), compressors and separators, valve systems, liner hanger systems, logging units, slick line tools, cased- and open-hole logging tools, ROVs, and beyond.
Here is a sample of the many products manufactured using high-performance polymer products for the upstream oil and gas industry:
OptiSeal®

O-Ring

Bonded Seals

Back-Up Rings

Valve Stem Seals & Seats

BOP Seals

Packer Elements

FS, T, S, LS Seals

A6R Rotary Seals

Sleeve Bearings

Stem Packing

V-Rings

Reverse Pressure Rings

Junk Rings

OL Seals (Polypak)

6R Downhole Pump Seals

Wear Rings

Seat Rings

Door Seals

Electrical Connectors

Lip Seals

Metal End Cap Seals

Liner Hanger Seals

Wiper Plugs

Pump Down Plugs

Bi-Directional Seals

High-Pressure Pump Packing

High Temp Seals (graphite/mesh)

Custom Molded Products
Trusted High-Performance Polymers for Upstream Oil and Gas Applications
Much of the equipment required for upstream oil and gas conditions requires polymeric and elastomeric components that can withstand a wide variety of harsh conditions, including highly corrosive chemical environments.
These environments include hydrochloric acid used in acidizing procedures; sour service (H2S); steam injection (ultra-high temp geothermal); rapid gas decompression (RGD); explosive decompression (ED); high pressure and high-speed flows found in hydraulic fracturing or pressure pumping operations; and exposure to completion fluids such as oil-based mud, high pH fluids, and amine base inhibitors.
Integration of metal components with plastics and elastomers often solves problems that no single material could. If a composite material does not perform as required, developing unique material blends and compounds can accomplish the objectives.


Some of the other materials in CDI's material portfolio with the right characteristics and properties for upstream oil and gas applications include:
PEEK (polyetheretherketone)
PTFE (polytetrafluoroethylene)
PTFE w/ Fillers
NBR (nitrile butadiene rubber)
HNBR (Hydrogenated acrylonitrile butadiene rubber)
FKM (fluorocarbon) – Viton®
FFKM (perfluoroelastomer)
Aflas®
Base Resistant Elastomers (BREs)
Degradable elastomers
PPS (Polyphenylene sulfide) – Ryton®
PUR (Polyurethane)
dures® family (150, 200, 250, A451, XPC2)
ETFE (ethylene-tetrafluoroethylene) - Tefzel®
Fibrex / SS bearing
Fabric
Commonly Used Manufacturing Processes for Upstream Oil and Gas Applications
The highly critical nature of components and products for upstream oil and gas applications means manufacturing of those products must meet the highest level of safety, quality, and reliability. With vertically integrated manufacturing, CDI provides far more than mere part production.
With over 30 polymer manufacturing processes, our team of skilled machinists, operators and technicians use cutting-edge processes, and technology to manufacture the highest quality seals, wear products, and functional components.
In this market, some of the most used manufacturing processes include injection molding; extrusion, ram, and melt molding; compression molding of plastics and rubber; injection transfer molding; precision CNC machining, turning and milling; large diameter molding capabilities; billet production and go-to-market finished products.
Backed by extensive research, testing, and manufacturing capabilities, including FEA, mold flow analysis, and simulation capabilities, our design and development team often work together with our customers to design performance polymer products which meet the unique application specs and environmental conditions.
Certifications and Qualifications for the Upstream Oil and Gas Industry
In addition to its many qualifications and certifications, CDI is proud to meet the stringent standards API Q1 certification. API Q1 is overseen by the American Petroleum Institute and certifies CDI's Quality Management System for the Design and Manufacture of High-Performance Elastomeric or Plastic Seals, Products, and Materials.
CDI also holds the ISO 9001 certification from American Petroleum Institute Quality Registrar for the Design and Manufacture of High-Performance Elastomeric or Plastic Seals, Products, and Materials.