Midstream and Downstream Industry
Midstream and Downstream Industry Challenges
The oil and natural gas industry is typically broken down into three focus areas: upstream, midstream, and downstream. Oil exploration, extraction, and production are the main activities of upstream oil companies.
Midstream activities include the storage, processing, and transportation of petroleum products in between upstream and downstream processes. Companies that specialize in pipeline development, operating tanker ships, terminals, or storage facilities may fall under the midstream category. Marine terminals, for example, provide distribution, storage, blending, inventory management, and additive injection services to refiners, marketers, traders, and other petroleum product end-users.
Downstream companies, meanwhile, are in charge of refining and transporting petroleum products to end users. Refineries, petroleum product distributors, petrochemical plants, natural gas distributors, and retail outlets are all part of the downstream process. Many everyday products – such as diesel, natural gas, gasoline, heating oil, lubricants, asphalt, insecticides, medicines, and propane as well as intermediate products used for many chemicals including many commonly used plastics (thermoplastics and thermosets), elastomers, and fabrics – come directly from downstream production.
Some of the most common pain points focus on extreme temperatures and pressures, abrasion resistance, friction resistance, resistance to thermal and mechanical shock, dimensional stability, chemical resistance, anti-corrosivity especially against the effects of sour gas (HS2), and long service life to name a few.
HIGH-PERFORMANCE POLYMER PRODUCTS FOR MIDSTREAM AND DOWNSTREAM APPLICATIONS
Effective sealing is critical in ensuring that midstream and downstream processes are as efficient and safe as possible.

Although midstream and downstream applications are unique, each necessitates safeguards against the possible risks of raw or semi-processed generated fluids and gases.

In midstream applications, high-performance polymer products can be effective for disposal tanks, field pipeline gathering, gas turbines, pumps, separators, storage tanks, transportation tanks, valves, and more.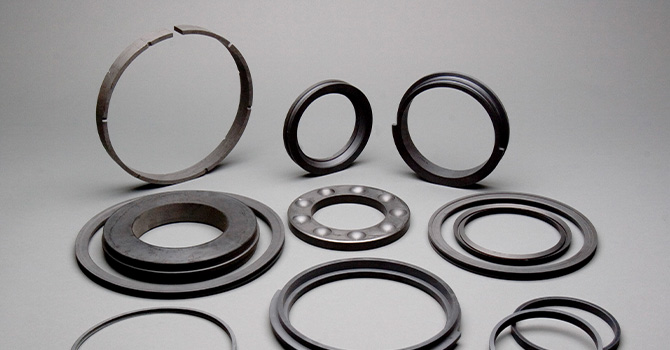 For downstream applications, plastics and elastomers can be highly efficient for use in centrifugal and reciprocating compressors, filtration systems, gas turbines, pipeline enclosures, separators, valves, and beyond.
Here is a sample of the many products manufactured using high-performance polymer products for the midstream and downstream industry:
Packing Rings

Oil Wipers

Packing Cases

Poppets

Valve Plates

Valve Rings

Piston Rings

Wear Bands

Labyrinth Seals

Impeller Wear Rings

Case Wear Rings

Throat Bushings

Throttle Bushings

Interstage Bushings

Center Stage Bushings

Line Shaft Bushings

Suction Bell Bushings

Disaster Bushing

U-Cups

Energized Lips Seals

Seat Seals

Stem Seals

Stem Bearing

Thrust Washer

Trunnion Bearing

Valve Seals

Valve Seats

Exclusion Seal

Diaphragms

Balls

Lip Seals

T-Seals
Trusted High-Performance Polymers for Midstream and Downstream Applications
The midstream and downstream industry has strict requirements and challenging specifications all driven to ensure low friction, thermal stability, resistance to thermal shock and mechanical shock, and the ability to survive high duty cycles.


Some of the other materials in CDI's material portfolio with the right characteristics and properties for midstream and downstream applications include:
PTFE (Polytetrafluoroethylene)
PAI (Polyamide-imide)
Polyamide - Nylon
GF (Glass Filled Nylon)
PEEK (Polyetheretherketone)
Carbon Filled PEEK
PPS (Polyphenylene sulfide)
Carbon Filled PFA (Perfluoroalkoxy)
PCTFE (Polychlorotrifluoroethylene) – Neoflon®
Modified PTFE
POM (Polyoxymethylene) - Acetal
Fibrex
Commonly Used Manufacturing Processes for Midstream and Downstream Applications
With the highly critical nature of components and products for midstream and downstream applications, manufacturing of those products must meet the highest level of safety, quality, and reliability. Using vertically integrated manufacturing, CDI provides far more than mere part production. With over 30 polymer manufacturing processes, our team of skilled machinists, operators and technicians use cutting-edge processes and technology to manufacture the highest quality seals, wear products, and functional components.
Backed by extensive research, testing, and manufacturing capabilities, our design and development team often work together with our customers to design performance polymer products which meet the unique application specs and environmental conditions. In the midstream and downstream market, some of the most used manufacturing processes include injection molding, melt molding, compression molding, grinding, precision CNC machining, large diameter machining, turning and milling, billets, and go-to-market finished products.
Certifications and Qualifications for the Midstream and Downstream Industry
CDI is certified to numerous global standards including API Q1, ISO 9001, ISO 14001, ISO 45001, Bizsafe Star, and AS 9100.
Recognized API Standards
API 610
API RP 697 (1st ed not yet released)
API 685
API 682
API 617
API 618
API 11P
API 6A PR2F Wellhead and Christmas Tree Valves
API 17D Subsea Production Equipment
API 6D
API 641 Fugitive Emissions
API 607
API 6FA
API 6FD
ISO 10497