General Industrial Industry
GENERAL INDUSTRIAL SECTOR CHALLENGES

The general industrial market, also referred to as the producer sector, comprises a diverse range of businesses within a broader segment that includes agriculture, automotive, chemical and petrochemical, engineering and building products, industrial machinery, mining, fabrication and manufacturing, construction and transport, waste and water management, and other related industries. Although the businesses within the general industrial market are diverse, the industry faces common challenges.

In general industrial applications, the premature failure of equipment and the resulting costs of maintenance and replacement are significant concerns. Therefore, there is a strong emphasis on extending the lifespan of operational and functional equipment such as pumps, valves, compressors, and other rotating equipment. Plants, refineries, and manufacturing facilities that experience maintenance issues or catastrophic failures, or suffer production losses due to batch discrepancies, are unable to achieve their maximum production output potential.

With lifecycle in mind, companies in the industrial space are looking to find ways to maintain quality operations while selecting products and components that improve strength-to-weight ratios as well as durability and dimensional stability. The products must also provide chemical compatibility, improve wear and abrasion resistance against mating surfaces that are rotating, sliding, or subject to abrasive media, and support vibration dampening and impact protection.
General industrial applications can stretch a wide gamut of offerings, but often involve potentially dangerous conditions. In those environments, the products and components must also help to reduce conductivity, particularly in explosive atmospheres, metal detection and static dissipation. The equipment and the products used in the equipment must mitigate fire danger and address UL flammability requirements. Increasing ignition resistance while reducing flame spread, heat release, and smoke generation is of vital importance.

Finally, the equipment must operate at optimal levels in low and high temperature conditions and in broad pressure differentials. No matter the application, safety and sustainability are top priorities. Minimizing environmental impact and supporting workforce safety and efficiency are paramount.
HIGH-PERFORMANCE POLYMER PRODUCTS FOR GENERAL INDUSTRIAL APPLICATIONS
Although the general industrial market is broad, the core focus of the market is based on one of the four following activities: products or equipment manufacturing; cleaning, repairing, or testing of goods or equipment; storage or transport of materials, goods, or equipment; or production of semi-finished or finished goods.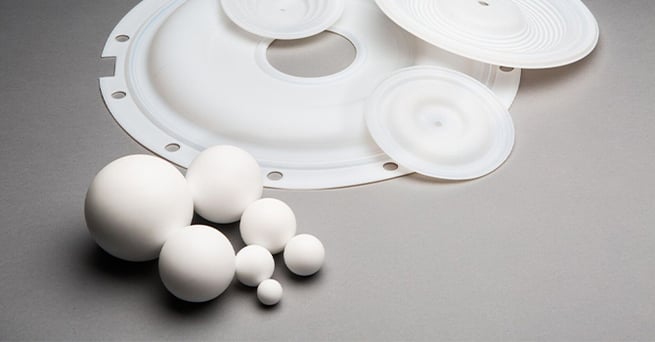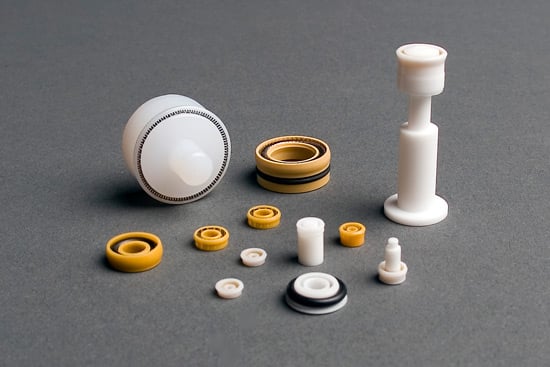 Within this market, there is a variety of applications, including piping systems, air compressors, painting, and spraying systems, pneumatic tools, centrifugal and reciprocating pumps, polyethylene terephthalate (PET) compressor systems, fluid control valves, and valve systems, lubrication systems, material handling equipment, dynamic and positive displacement pumps, manufacturing machinery, automation machinery, as well as air, oil, and water filtration systems.
This is not an exhaustive list, and the applications can vary depending on project and client needs.
Here is a sample of the many products manufactured using high-performance polymer products for the general industrial industry:
Bearings

Bellows

Bushings

Capped seals

Control housing

Diaphragms

Discs

Fittings

Gears

Grommets

Mounting pads

Housings

HVAC Drain pans

Impellers

Manifolds

Packing rings

Piston Rings, Piston Cups

Pump Housings

PTFE Balls

Seal stacks

Spring Energized Seals

Wear rings

Valve seats

Functional and structural components

Custom molded products
Trusted High-Performance Polymers for General Industrial Applications
The general industrial industry has strict requirements and challenging specifications all driven to ensure optimal efficiency, safety, and minimal negative environmental impact.
To address the complexities, polymer product manufacturers must deliver the best quality materials and compounds, often focused on plastics, thermoplastics, composites, elastomers, and packing materials.


Some of the materials in CDI's material portfolio with the right characteristics and properties for general industrial applications include:
PTFE (Polytetrafluoroethylene)
PEEK (Polyether ether ketone)
PFA (Perfluoro alkoxy alkanes)
PUR (Polyurethane)
NBR (Nitrile butadiene rubber)
HNBR (Hydrogenated nitrile butadiene rubber)
FKM (Fluorocarbon) – Viton®
FFKM (Perfluoroelastomer)
TFE/P (Tetrafluoroethylene propylene) – Aflas®
Commonly Used Manufacturing Processes for General Industrial Applications
With the highly critical nature of components and products for general industrial applications, manufacturing of these products must meet the highest level of safety, quality, and reliability. With vertically integrated manufacturing, CDI provides far more than mere part production. With over 30 polymer manufacturing processes, our team of skilled machinists, operators and technicians use cutting-edge processes and technology to manufacture the highest quality seals, wear products, and functional components.
Backed by extensive research, testing, and manufacturing capabilities, our design and development team often work together with our customers to design performance polymer products which meet the unique application specs and environmental conditions.
In the general industrial market, some of the most used manufacturing processes include injection molding, isostatic molding; extrusion, ram and melt molding, compression molding of plastics and rubber, precision CNC machining, large diameter machining, turning and milling, thermoforming of PTFE, filament winding (for bearing applications); billets, and go-to-market finished products.
Certifications and Qualifications for the General Industrial Industry
CDI is certified to numerous global standards including API Q1, ISO 9001, ISO 14001, ISO 45001, Bizsafe Star, and AS 9100.