Hydrogen Industry
Hydrogen Industry Challenges
With a high level of energy storage potential and substantial industrial demand, hydrogen is projected to play a significant part in the world's transition to a cleaner and more sustainable energy mix. With a global push toward decarbonization, substantial technological advancements, and large infrastructure investments, the hydrogen sector is primed for fast growth.

The hydrogen economy will benefit from the use of fuel cells, fuel cell automobiles, and increased energy consumption. Although hydrogen is often transported in liquid or gaseous form, the handling and operating constraints of pure hydrogen place a major load on storage vessels.
Hydrogen carriers are hydrides or hydrogen compounds formed by the chemical reaction of a metal or a chemical with hydrogen. They are often lightweight and easy to transport across large distances. Storing these carriers is also convenient, and with continued research and development into hydrogen carriers, entrepreneurs hope to improve the purity and efficiency of the separation process to recover the hydrogen.

Renewable hydrogen and carbon capture, use, and storage (CCUS) have a substantial impact on all other industry developments due to their connection with clean hydrogen production. Incorporating CCUS technologies reduces the environmental impact of traditional production processes significantly. These technologies are used in large-scale hydrogen production facilities to reduce carbon emissions or convert them into usable fuel for other processes. For example, CCUS facilitates fertilizer synthesis and is effective in increased oil recovery (EOR).

Furthermore, generating solid carbon by-products is an efficient means of utilizing hydrogen manufacturing waste. Reusing gaseous carbon emissions in other industrial processes also assures that there are no waste or emission loops. The current method of producing hydrogen relies heavily on fossil fuels, rendering the hydrogen produced unsustainable. Popular methods such as steam methane reforming and coal gasification increase greenhouse gas emissions. Until alternatives become more cost- and energy-effective, these will remain the primary sources of hydrogen production.
HIGH-PERFORMANCE POLYMER PRODUCTS FOR HYDROGEN APPLICATIONS
Hydrogen is versatile, with technologies available today which enable hydrogen to produce, store, move, and use energy in different ways. Hydrogen may be produced by a wide range of sources, including renewables, nuclear, natural gas, coal, and oil. It can be converted into energy and methane, which may be used to power homes and industries and fuel vehicles, trucks, ships, and planes. Hydrogen can be extracted from fossil fuels and biomass, water, or a combination of the two.

Natural gas is the dominant source of hydrogen generation now and accounts for roughly three-quarters of annual global dedicated hydrogen production. The hydrogen industry relies on high-performance materials like thermoplastics, elastomers, and fluoroelastomers for numerous applications, including hydrogen refueling stations, hydrogen storage, hydrogen pipelines, hydrogen liquefaction, hydrogen bottle filling, green fuels (eFuels), Power-to-X systems, green steel, and beyond. Developing advanced electrolysis technologies primarily allows for the greater scalability of hydrogen production units.
Increasingly favored because of the reduction in operating expenditures and capital expenditures, proton exchange membrane or polymer electrolyte membrane (PEM) electrolyzers serve both industrial and residential purposes.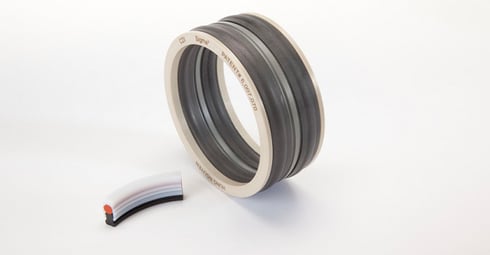 Here is a sample of the many products manufactured using high-performance polymer products for the hydrogen industry:
Fuel Cell Seals

Piston Rings

Wear Rings

Rider Rings

Packing Cases

Packing Rings

Oil Wipers

Valve Plates

Valve Rings

Poppets
Trusted High-Performance Polymers for Hydrogen Applications
The hydrogen industry has strict requirements and challenging specifications all driven to ensure optimal efficiency, safety, and environmental compliance. To work with the leaders of industry, polymer product manufacturers must deliver the best quality materials and compounds. Those materials must perform at high pressures in non-lube compressors, while delivering low friction, high strength, and temperature stability.


Some of the other materials in CDI's material portfolio with the right characteristics and properties for hydrogen applications include:
Glass-filled nylon
Carbon Fiber
PEEK (Polyether Ether Ketone)
Ryton® - PPS
Teflon® PTFE
Torlon® PAI
Vespel® - Polyimide
Commonly Used Manufacturing Processes for Hydrogen Applications
With the highly critical nature of components and products in hydrogen applications, manufacturing of those products must meet the highest level of safety, quality, and reliability. With vertically integrated manufacturing, CDI provides far more than mere part production. With over 30 polymer manufacturing processes, our team of skilled machinists, operators, and technicians use cutting-edge processes and technology to manufacture the highest quality seals, wear products, and functional components.

Backed by extensive research, testing, and manufacturing capabilities, our design and development team often work together with our customers to design performance polymer products which meet the unique application specs and environmental conditions. In the hydrogen market, some of the most used manufacturing processes include injection molding, melt molding, compression molding, precision CNC machining, turning and milling, billet production, and go-to-market finished products.
Certifications and Qualifications for the Hydrogen Industry
Although there are no specific certification standards for the hydrogen industry, CDI is certified to numerous global standards including API Q1, ISO 9001, ISO 14001, ISO 45001, Bizsafe Star, and AS 9100.