Aerospace Industry
Aerospace Industry Challenges
The aerospace sector, one of the largest and most powerful industries in the world, supplies five markets: military aircraft, missiles, space, commercial airliners, and general aviation. Across the aerospace and defense industry, high-performance polymer products are used in multiple applications and system-critical areas where failure is not an option.
Whether they be commercial or military grade, aircraft are subject to extreme fluctuations in altitude, pressure, temperature, and speed, coupled with dynamic weather and environmental conditions. To mitigate risk, aircraft are designed to withstand an incredible amount of stress and strain, and aircraft manufacturers incorporate a substantial safety margin into their designs.
Manufacturers across the aerospace industry are unified in their goal of optimal strength-to-weight ratios – as the lighter the aircraft, the more fuel efficient. For this reason, thermoplastics and other polymer materials have made a tremendously positive impact in the global industry.
Beyond weight reduction, polymers also deliver strong value in a variety of applications due to their unique characteristics. Polymers also often outperform metallic components in terms of corrosion and fatigue resistance, insulative properties, solar load, and durability. When lives are on the line and environmental conditions cannot be controlled, every piece of equipment and every component on an aircraft must be carefully considered. In essence, each element is mission-critical, and choosing the best materials can prevent failure.
HIGH-PERFORMANCE POLYMER PRODUCTS FOR AEROSPACE APPLICATIONS
The aviation industry relies on high-performance materials like thermoplastics, elastomers, and fluoroelastomers for numerous applications. These high-performance materials are critical for sealing and insulation solutions, metal replacement, sensor protection, precision components, vehicle integrity, power management, fuel management, and beyond.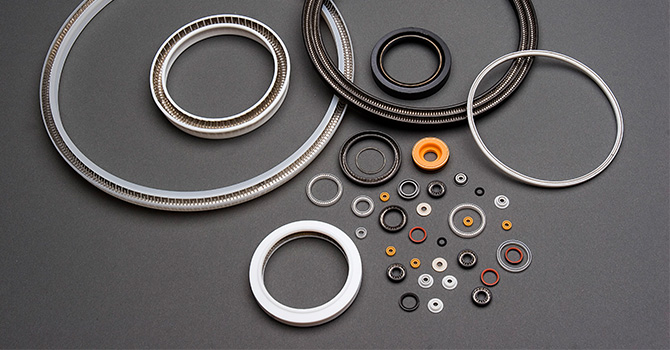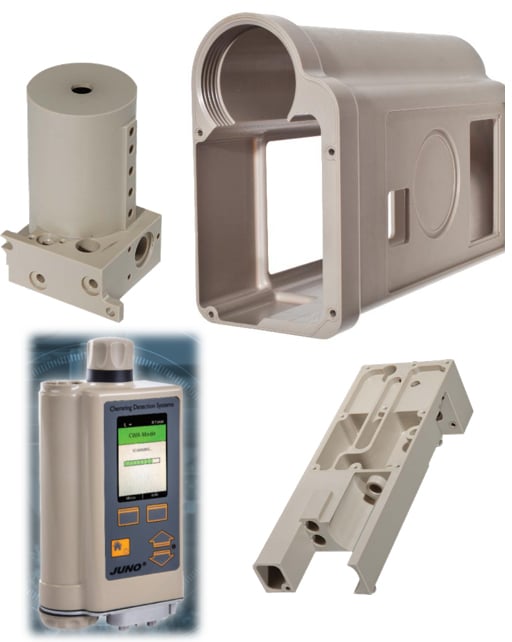 Polymers have their use outside of traditional air travel, clearly exhibiting their advantages in satellite systems and drones, as well as the future of flight with personal jet propulsion, unmanned aircraft, and autonomous air taxis.
Here is a sample of the many products manufactured using high-performance polymer products for the aviation, space, and defense industry:
APU Components

Brake Bladders

Bushings

Controls

Critical Components

Door sealing systems

Electric power terminals

Electrical Insulation

Housing

Hydraulic Components

Hydraulic quick disconnects

Interiors

MRO Components

Nozzles

Near-net shapes

Near-end shapes

Optiseals

O-Rings

Packing sets

Radomes - Radar Emitter Covers

Retaining Clips

RF Cable connectors

Ring Seals

Satellites

Seal Plates

Seal Sets

Shaped Products

Space and Satellite Device Components

Spacers

Studs

Terminal Boards

Thermal Insulation

Valve Adapters

Valve Housings

Wear Guides

Wire Harnesses
Trusted High-Performance Polymer Materials for Aerospace Applications
The aerospace and defense industry has strict requirements and challenging specifications all driven to ensure optimal efficiency, safety, and environmental compliance. To work with the leaders of this industry, polymer product manufacturers must deliver the best quality materials and compounds. Those materials must provide the significant weight savings, insulation, tribological efficiencies, emissivity, and reliability aerospace and defense companies demand.
With advanced material science and an extensive material portfolio, CDI leverages the strength, chemical resistance, extreme temperature tolerance, and sustainability of polymers. Advanced polymers can withstand the extreme temperatures found at high altitudes and offer a non-corrosive base with low water absorption allowing for natural buoyancy.
One of the most trusted and frequently used materials in aviation, PEEK (Polyether Ether Ketone) boasts several key properties that help solve critical engineering problems. Polymers are often the go-to material portfolio for aerospace as the materials can offer the low friction, high strength, and temperature stability (solar load) essential for flight and air travel.


Some of the other materials in CDI's material portfolio with the right characteristics and properties for aerospace applications include:
ABS
Acetron®GP
Celazole
Delrin® - Acetal
Duratron
FKM
FR-4
Fluorosilicone
Glass-filled nylon
Neoprene
Noryl® - Nylon
PEEK (Polyether Ether Ketone)
PEI
PEI FOAM
Ryton® - PPS
Radel® - PPSU
Silicone
Teflon® PTFE
Torlon® PAI
Ultem® PEI
Vespel® - Polyimide
Commonly Used Manufacturing Processes for Aerospace Applications
The highly critical nature of components and products for aerospace and defense applications means manufacturing of those products must meet the highest level of safety, quality, and reliability. With vertically integrated manufacturing, CDI provides far more than mere part production. With over 30 polymer manufacturing processes, our team of skilled machinists, operators, and technicians uses cutting-edge processes and technology to manufacture the highest quality seals, wear products, and functional components.
Backed by extensive research, testing, and manufacturing capabilities, our design and development team often work together with our customers to design performance polymer products which meet the unique application specs and environmental conditions. In the aerospace and defense market, some of the most used manufacturing processes include injection molding, extrusion, ram and melt molding, compression molding, precision CNC machining, large diameter machining, turning and milling, and billet production.
In addition to its many qualifications and certifications, CDI is proud to meet the stringent standards for AS9100 certification. CDI's North America manufacturing facility has received certification to the AS9100D quality management standard through Lloyd's Register. AS9100 is the international quality management system standard for the Aviation, Space, and Defense industry. AS9100 provides manufacturing suppliers with a comprehensive quality system for providing safe and reliable products. The certification program is managed by the International Aerospace Quality Group (IAQG). And lastly, CDI is an active participant and contributor to the SAE Organization - Aerospace which oversees the development and revision of numerous standards used in the aerospace industry.