Arylast™ stands as a top-tier material with diverse uses in multiple industries. Reach out to a CDI Materials Expert today to discover how the Arylast™ material range could positively impact your unique industry or application.
Designed To Withstand The Rigorous Demands Of The Aerospace Industry
CDI's Arylast™ material range of elastomers is specially engineered elastomers to meet the demanding needs and challenging requirements of the aerospace industry. The material family includes Nitrile (NBR), Fluorocarbon (FKM), Ethylene Propylene Diene Monomer (EPDM), Fluorosilicone (FVMQ) and Perfluoroelastomer (FFKM) polymers. These elastomers can be characterized as follows:
NBR (Nitrile Butadiene Rubber)
NBR is most used with mineral-based oils and greases. NBR characteristics are primarily determined by the acrylonitrile (ACN) content, which ranges between 18 and 50%. In general, NBR materials have good mechanical properties. The operating temperatures of a peroxide-cured NBR range from -65°F (-54°C) to +250°F (+121°C), with a short exposure duration up to +275°F (+135°C). A sulfur-cured NBR operates at temperatures ranging from -65°F (-51°C) to +225°F (+108°C) with a short exposure duration up to +250°F (+112°C).
FKM (Fluorocarbon Rubber)
FKM is primarily used with mineral-based oils and greases at high temperatures. FKM materials' chemical resistance and cold flexibility might vary depending on their structure and fluorine content. FKM is well-known for its non-flammability, low gas permeability, and excellent resistance to ozone, weathering, and aging. The working temperatures of FKM materials can range from -65°F (-54°C) to +400°F (+204°C) depending on the polymer grade. FKMs can tolerate temperatures as high as +446°F (+230°C) for brief periods of time, while FKM polymers can be designed to withstand temperatures as low as -65°F (-54°C).
FVMQ (Fluorosilicone Rubber)
FVMQ is frequently used in military and fuel systems. FVMQ materials provide superior heat resistance, cold flexibility, dielectric properties, and are particularly resistant to oxygen and ozone. Operating temperatures range from -76°F (-60°C) to +392°F (+200°C) depending on the compound. FVMQs have a short exposure temperature range of +446°F (+230°C).
FFKM (Perfluoroelastomer)
Applications for FFKM can be mostly found in aircraft engines and in all applications with either aggressive environments or high temperatures. FFKM are resistant to virtually all media at elevated temperatures and demonstrate low swelling. Depending on the compound, operating temperatures
range between -13°F (-25°C) to +464°F (+240°C), some compounds can be designed with a high temperature up to +617°F (+325°C).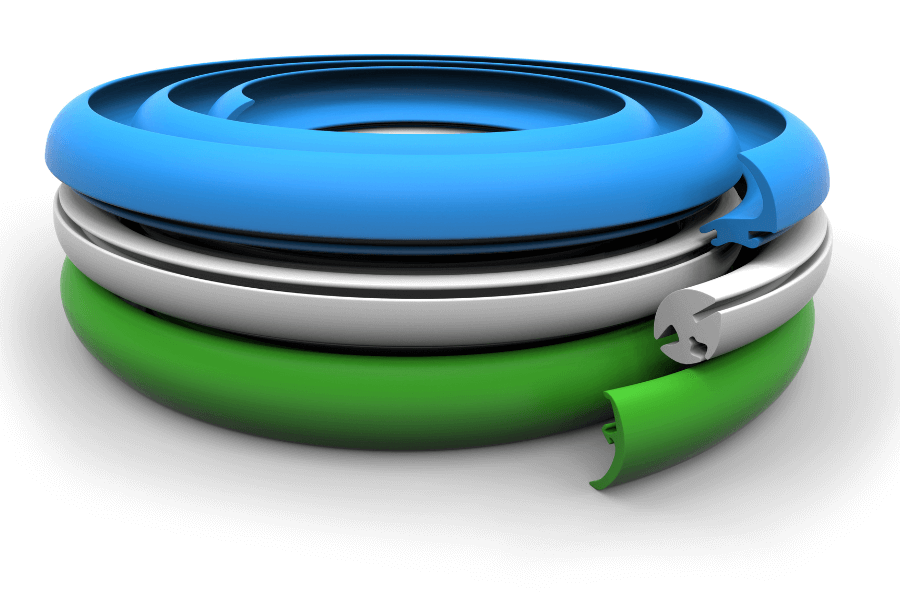 EPDM (Ethylene Propylene Diene Monomer)
EPDM is frequently utilized in applications involving brake fluids, AS1241 phosphate ester fluids, glycol-based fluids, and hot water. EPDM materials give good heat, ozone, and aging resistance. They also have high levels of flexibility, good low temperature performance, and good insulating qualities. EPDM materials operate at temperatures ranging from -65°F (-54°C) to +302°F (+150°C). For short periods of time, they can withstand up to +347°F (+175°C). Newer lower temperature EPDM polymers can seal at temperatures as low as -75°F (-60°C).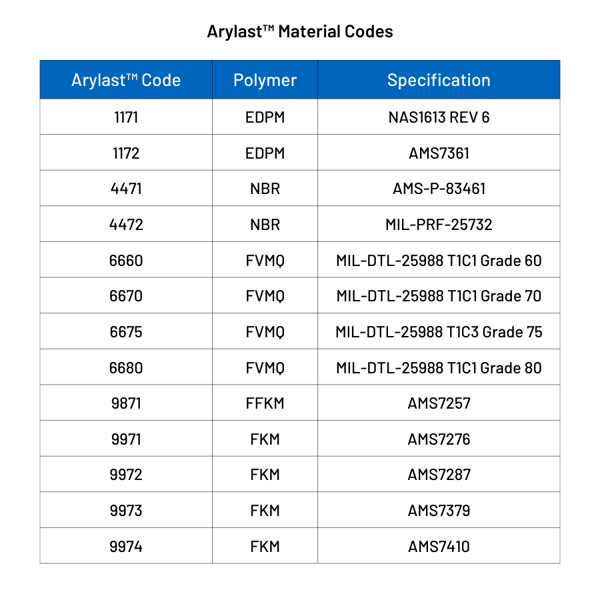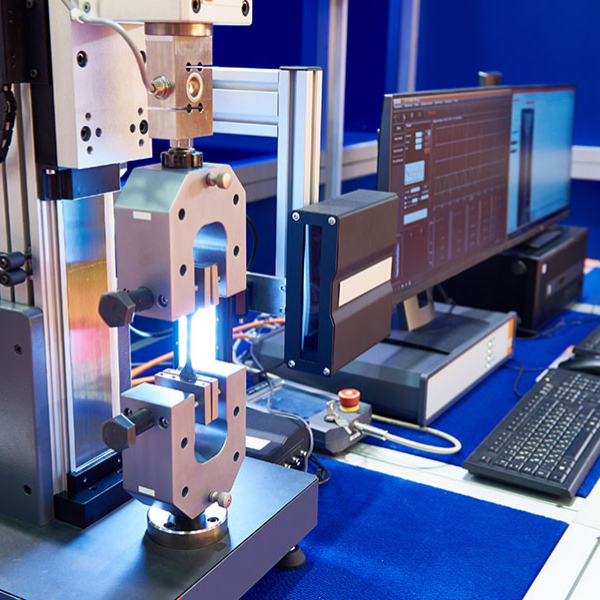 Many CDI seal designs are composite seals with an elastomer element as an integral part of the seal. For this reason, it is crucial to control seal design parameters such as elastomer expansion, molding shrinkage, compression set, fluid compatibility, and tolerances. Through extensive and rigorous testing in our test laboratory, we ensure that our compounds are manufactured to our specifications. Several of our compounds are pending QPL approval as part of the NADCAP/PRI program.
The selection of an elastomer material for a hydraulic fluid is crucial because elastomers are more fluid-sensitive than other materials. If the incorrect material is selected, chemical reactions and physical behavior can be extremely harmful or catastrophic.
Even though industry standards ensure compatibility, the number and type of additives used in hydraulic oils can result in different behaviors. It may be necessary to conduct fluid exposure testing at elevated temperatures to verify the performance for critical applications.