CDI is trusted by the world's major aircraft manufacturers for everything from flight control actuators to landing gear. Our industry-leading sealing systems are made from time-tested materials and are specifically built to meet any application need.
Piston Ring
The Piston Ring is intended for hydraulic service in piston applications where very low friction is desired. Piston rings consists of two Armorlene® rings, where each ring is step cut for ease during installation. The step cuts are required to be installed 180° apart and secured in place by an engineered thermoplastic anti-rotation device. The device eliminates the risk of the two rings rotating relative to each other during dynamic motion and eliminates the need for a specially designed wave spring. The narrow seal design of the Piston Ring provides low friction in comparison to other seals for groove widths per AS4716. The use of metal expanders allows for a wider operating temperature range and improves the chemical resistance of the assembly as well as consist sealing performance remains constant over time. The surface finish of the groove sidewalls is an integral part of sealing performance. It should be controlled within an average roughness range of 8-16µin/0.2 to 0.4 µm to achieve optimum performance from the interface. CDI Products recommends angularity of the groove walls be controlled to 0.0° +/- 0.5°.
Features and Benefits
Armorlene® Piston Rings deliver an ultra-low-friction seal for AS4716 bore sizes metallic piston rings cannot match
Step-cut in piston ring for easy installation
Assembly provides exceptional performance in high-pressure environments
Suitable for demanding dynamic applications

Very low friction
Wide operating temperature range
Fits into narrow grooves
Excellent chemical resistance
Reacts very quickly to pressure direction changes
Low hysteresis
Easy installation
Bidirectional seal

Marcel Expander material include 17-7 PH Condition CH900 (preferred), 17-7 Stainless Steel Condition C and 301 Stainless Steel Full hard per AMS5519 with a Armorlene® 700 anti-rotation device
Piston Ring is designed to be used in bore in accordance with SAE-AS4716 specification (sizes 112 through -447)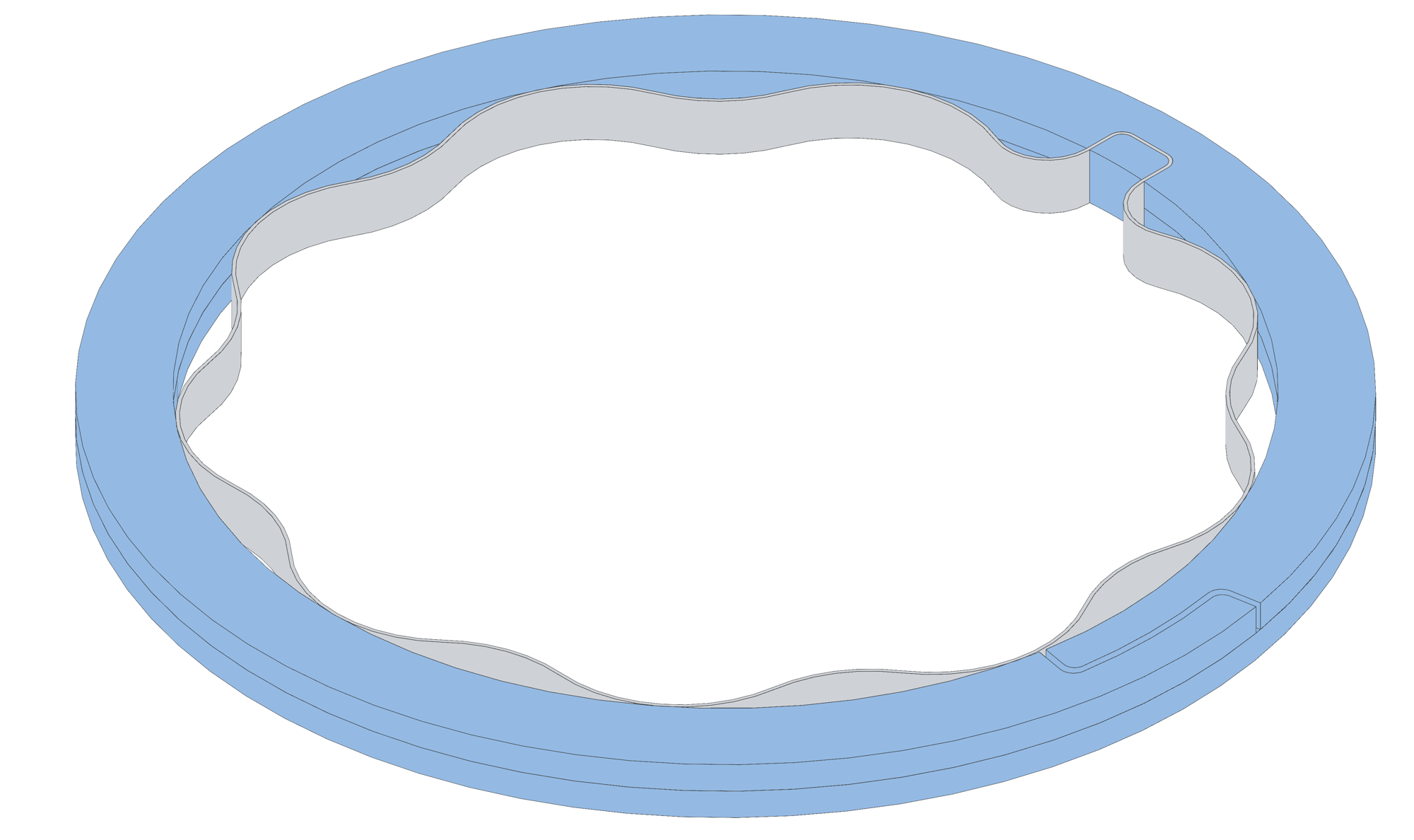 Product Specs.
Download Tech Specs PDF
Dash Size
C Cylinder OD Min
C Cylinder OD Max
A Cylinder Bore Ø Min
A Cylinder Bore Ø Max
F Piston Groove Ø Min
F Piston Groove Ø Max
GW Backup Width Min
GW Backup Width Max
Share
112
0.672
0.673
0.675
0.677
0.425
0.433
-
-
Link
Part #
113
0.735
0.736
0.738
0.740
0.424
0.432
-
-
Link
Part #
114
0.797
0.798
0.800
0.802
0.486
0.494
-
-
Link
Part #
115
0.860
0.861
0.863
0.865
0.549
0.557
-
-
Link
Part #
116
0.922
0.923
0.925
0.927
0.611
0.619
-
-
Link
Part #
210
0.988
0.989
0.991
0.993
0.677
0.685
-
-
Link
Part #
211
1.050
1.051
1.053
1.055
0.739
0.747
-
-
Link
Part #
212
1.113
1.114
1.116
1.118
0.802
0.810
-
-
Link
Part #
213
1.175
1.176
1.178
1.180
0.864
0.872
-
-
Link
Part #
214
1.238
1.239
1.241
1.243
0.927
0.935
-
-
Link
Part #
215
1.300
1.301
1.303
1.305
0.989
0.997
-
-
Link
Part #
216
1.363
1.364
1.366
1.368
1.052
1.060
-
-
Link
Part #
217
1.425
1.426
1.428
1.430
0.940
0.948
-
-
Link
Part #
218
1.488
1.489
1.491
1.493
1.053
1.061
-
-
Link
Part #
219
1.550
1.551
1.553
1.555
1.115
1.123
-
-
Link
Part #
220
1.613
1.614
1.616
1.618
1.178
1.186
-
-
Link
Part #
221
1.675
1.676
1.678
1.680
1.240
1.248
-
-
Link
Part #
222
1.738
1.739
1.741
1.743
1.303
1.311
-
-
Link
Part #
325
1.863
1.864
1.867
1.869
1.429
1.437
-
-
Link
Part #
326
1.988
1.989
1.992
1.994
1.554
1.562
-
-
Link
Part #
327
2.114
2.115
2.118
2.120
1.680
1.688
-
-
Link
Part #
328
2.239
2.240
2.243
2.245
1.805
1.813
-
-
Link
Part #
329
2.364
2.365
2.368
2.370
1.930
1.938
-
-
Link
Part #
330
2.488
2.490
2.493
2.495
2.055
2.063
-
-
Link
Part #
331
2.613
2.615
2.618
2.620
2.180
2.188
-
-
Link
Part #
332
2.738
2.740
2.743
2.745
2.305
2.313
-
-
Link
Part #
333
2.863
2.865
2.868
2.870
2.430
2.438
-
-
Link
Part #
334
2.988
2.990
2.993
2.995
2.555
2.563
-
-
Link
Part #
335
3.113
3.115
3.118
3.120
2.680
2.688
-
-
Link
Part #
336
3.238
3.240
3.243
3.245
2.805
2.813
-
-
Link
Part #
337
3.363
3.365
3.368
3.370
2.930
2.938
-
-
Link
Part #
338
3.488
3.490
3.493
3.495
3.055
3.063
-
-
Link
Part #
339
3.613
3.615
3.618
3.620
3.180
3.188
-
-
Link
Part #
340
3.738
3.740
3.743
3.745
3.305
3.313
-
-
Link
Part #
341
3.863
3.865
3.868
3.870
3.430
3.438
-
-
Link
Part #
342
3.988
3.990
3.993
3.995
3.555
3.563
-
-
Link
Part #
343
4.113
4.115
4.118
4.120
3.554
3.562
-
-
Link
Part #
344
4.238
4.240
4.243
4.245
3.679
3.687
-
-
Link
Part #
345
4.363
4.365
4.368
4.370
3.804
3.812
-
-
Link
Part #
346
4.487
4.489
4.493
4.495
3.929
3.937
-
-
Link
Part #
347
4.612
4.614
4.618
4.620
4.054
4.062
-
-
Link
Part #
348
4.737
4.739
4.743
4.745
4.179
4.187
-
-
Link
Part #
349
4.862
4.864
4.868
4.870
4.304
4.312
-
-
Link
Part #
425
4.968
4.970
4.974
4.977
4.410
4.418
-
-
Link
Part #
426
5.093
5.095
5.099
5.102
4.535
4.543
-
-
Link
Part #
427
5.218
5.220
5.224
5.227
4.660
4.668
-
-
Link
Part #
428
5.343
5.345
5.349
5.352
4.785
4.793
-
-
Link
Part #
429
5.468
5.470
5.474
5.477
4.910
4.918
-
-
Link
Part #
430
5.593
5.595
5.599
5.602
5.035
5.043
-
-
Link
Part #
431
5.718
5.720
5.724
5.727
5.160
5.168
-
-
Link
Part #
432
5.843
5.845
5.849
5.852
5.285
5.293
-
-
Link
Part #
433
5.968
5.970
5.974
5.977
5.410
5.418
-
-
Link
Part #
434
6.093
6.095
6.099
6.102
5.535
5.543
-
-
Link
Part #
435
6.218
6.220
6.224
6.227
5.660
5.668
-
-
Link
Part #
436
6.343
6.345
6.349
6.352
5.785
5.793
-
-
Link
Part #
437
6.468
6.470
6.474
6.477
5.910
5.918
-
-
Link
Part #
438
6.718
6.720
6.724
6.727
6.160
6.168
-
-
Link
Part #
439
6.968
6.970
6.974
6.977
6.410
6.418
-
-
Link
Part #
440
7.218
7.220
7.224
7.227
6.660
6.668
-
-
Link
Part #
441
7.468
7.470
7.474
7.477
6.910
6.918
-
-
Link
Part #
442
7.718
7.720
7.724
7.727
7.160
7.168
-
-
Link
Part #
443
7.968
7.970
7.974
7.977
7.410
7.418
-
-
Link
Part #
444
8.218
8.220
8.224
8.227
7.660
7.668
-
-
Link
Part #
445
8.468
8.470
8.474
8.477
7.910
7.918
-
-
Link
Part #
446
8.967
8.970
8.974
8.977
8.410
8.418
-
-
Link
Part #
447
9.467
9.470
9.474
9.477
8.910
8.918
-
-
Link
Part #